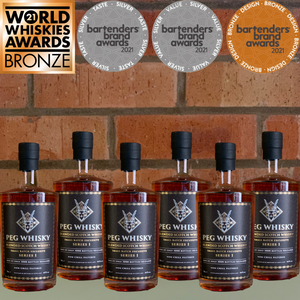 Our Small Batch Exclusive Series 1
We're excited to offer the first release in our Small Batch Exclusive Series. Bottled at 46% and non-chill filtered, there will only ever be 3000 bottles released. This whisky creates an easy-drinking blended Scotch for all that's sweet and rounded, with hints of vanilla, malt and gentle floral notes.
Comes with its very own Peg Whisky presentation box.
Why not get yourself 10% off a full case of 6 and get this fantastic whisky at a discounted price of £243, while offer lasts.
Our Series 1 has received a Bronze award for the Blended Limited Release category from the World Whiskies Awards 2021 and Silver in the Taste and Value category and Bronze in the Design category from the Bartenders Brand Awards 2021 making this a truly exceptional whisky.
#MakeItAPeg
Key facts
ABV: 46%

Bottles released: 3000

Bottle size: 70cl
Tasting notes
Nose: Light and creamy infused with icing sugar flour and orange zest.
Palate: Clean and malty with vanilla toffee extracts.
Finish: Dries with biscuit and subtle floral notes.