PEG WHISKY

Carefully selected, limited edition, small batch exclusive and blended whiskies
PEG WHISKY
Carefully selected, limited edition, small batch exclusive and blended whiskies
View our whiskies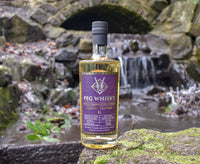 The Peg Whisky Story
There are many great stories out there about how the term 'Peg' came about. With so many variations and not enough evidence, we at Peg Whisky decided to do our own research and here's what we found:
A long time ago in the 20th century, there was a renowned Maharaja from India who was incredibly fond of hosting liquor parties in honour of British officials. These parties were often held after the Maharaja's favourite horseback game of polo. This 'liquor party diplomacy' helped him get what he wanted from his British counterparts. Drink loosened tongues and oiled the wheels of negotiation.
But there was a problem, the Maharaja's personal officers would drink more than they could handle at these parties. To prevent this from continuing, the Maharaja decided to control the serving measure allowed by passing an order, that no more than two servings should be consumed at any one time and that each one should be no more than two fingers in height.
Now as you might expect, the Maharaja had surrounded himself with personal officers who were shrewd and intelligent. They too knew how to bypass the rules to get what they wanted. While the Maharaja's order clearly stated only two fingers were to be used in measuring their drink, it was not specified which two fingers these had to be. Therefore, whenever the personal officers requested a drink, they instructed the bartenders to use their index finger and their pinky finger against the glass to be filled with liquor. Hence, from this day forth, whenever this measure is used, it is famously known as a 'Peg'.
So, why not make it a 'Peg', but please drink responsibly.
Great releases from a new Independent Bottler - the TSC team are looking forward to a peg or two!

The Single Cask
A really interesting approach: single cask releases, limited edition blends, and all with a clear sense of heritage and context - all things we like to see at TopWhiskies.com.

TopWhiskies
Carefully selected whiskies, ensuring that they are well balanced making for an enjoyable peg! CJ

Single Malt Vault