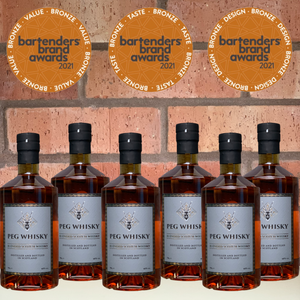 Our Blended Scotch Whisky
We're pleased to offer our Blended Scotch Whisky which brings together the best of both malts and grains to give Peg Whisky its unique taste and character.  At a smooth and approachable 40% ABV, this 70cl Blended Scotch Whisky is suited to all tastes, for everyone to enjoy. Unlike our limited edition ranges, we'll never run out; so don't worry, you'll be able to enjoy this for years to come.
Why not get yourself 10% off a full case of 6 and get this superb whisky at a discounted price of £162.

Our Blended Scotch Whisky has been awarded a Bronze medal in the Taste, Value and Design category from the Bartenders Brand Awards 2021 offering you an impressive dram to appreciate.
#MakeItAPeg
Tasting notes
Nose: Warming and fresh with the subtle smell of barley and orange.
Palate: Smooth with mint toffee, liquorice and a gentle hint of spice.
Finish: Pleasantly dry and malty sweetness.